Introduction
The Connexus Institute has developed a more accelerated pathway to qualification as a psychotherapist for those who are already qualified counsellors or therapists (or nearing qualification), regardless of the modality or approach you trained in.
Training options:
Depending on your current qualifications, clinical experience and level of TA knowledge, if any, you will be eligible to follow either a two-year or a three-year route which will build on your existing knowledge and skills. This will enable you to complete the formal training required to qualify as a UKCP registered Transactional Psychotherapist and become a Certified Transactional Analyst (CTA) accredited by EATA.
Route One – For those with no existing TA knowledge
For those who have not studied Transactional Analysis before, our three-year route comprises a two-day TA101 course followed by attendance on our highly enjoyable Stage One Foundation year. Upon successful completion of this year, you will be eligible to take our clinical fast-track training, comprising of 22 days over one academic year, followed by our Stage Three advanced clinical year.
Route Two – For those with existing TA knowledge such as a Foundation Year (or equivalent)
For those who have studied some Transactional Analysis before our two-year route comprises completion of our Part 2 clinical fast-track year, followed by our Stage Three, advanced clinical year.
An overview of the accelerated training route: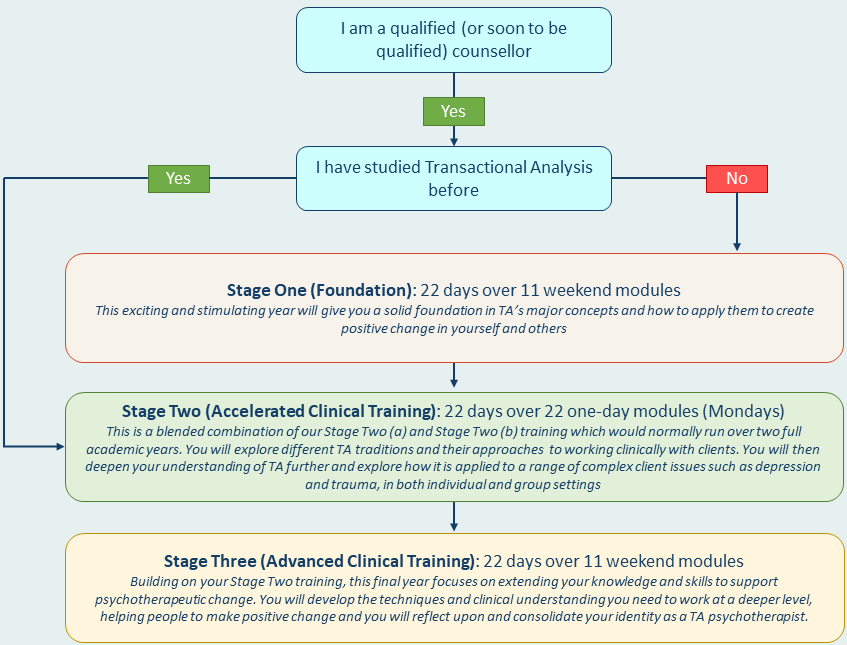 Building on your Stage Two training, this final year focuses on extending your knowledge and skills to support psychotherapeutic change. You will develop the techniques and clinical understanding you need to work at a deeper level, helping people to make positive change, and you will reflect upon and consolidate your identity as a TA psychotherapist.
At the end of the year, you will have completed your formal TA training and be eligible to continue towards your CTA exam and qualification as a UKCP registered psychotherapist.
Why attend?
This is an excellent opportunity for qualified counsellors to qualify as a UKCP Registered Psychotherapist and Certified Transactional Analyst, regardless of the modality or approach of their existing training and qualification. Learning in small groups where your existing knowledge will be respected and valued, this is an enjoyable and stimulating route to qualification in which you will be fully supported by our team of highly experienced Tutors.
NOW TAKING BOOKINGS FOR SEPTEMBER 2022
Length: 22 one-day modules (Mondays) over one academic year
Dates: To be confirmed
Cost: £2,700
Dates to be confirmed - please sign up to our mailing list below
More Information?
Let us know if you have any questions